Two of Solvest's seasonal employees provide insight into their experience over the summer: the skills they learned and Solvest's work culture.
At Solvest, our busy season revolves around the sun.☀️Every summer, our team expands to accommodate as many projects as possible. Most of our growth comes from Solar Technicians, who make our solar designs a reality! Our office has also welcomed summer interns for the past couple of years. A couple of our summer staff members were kind enough to give us some first-hand insight into what working in a niche industry like solar is like!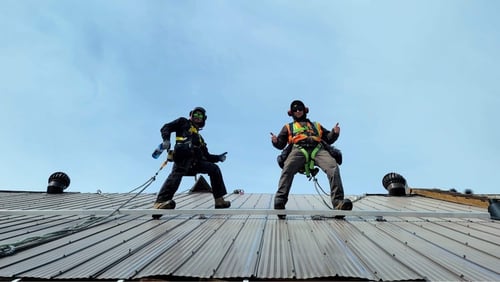 Oscar worked as a Solar Technician in the summers of 2020 and 2021, returning in 2022 as a Crew Leader.
Ruby joined Solvest as the Marketing Assistant for her summer co-op in 2022.
With Oscar and Ruby both heading back to school and sports, we asked them to share their Solvest experience with us. Here's what they had to say!

What made you want to return to Solvest this year?
Oscar: Solvest has an unparalleled environment with a culture of guidance and stewardship, It really pushes you to be your Best. Along with cutting-edge technologies, great people, competitive wages and exciting projects, The choice to come back to Solvest was easy!
What have been some of the most positive aspects of this job for you?
Ruby:
There have been so many positive aspects of this job, but I would say the biggest one for me was the work culture that Solvest has built and the people that I got to work alongside and learn from; the work culture here is special and has a way to make everyone feel truly valued. As a summer student, I was prepared to be handed off the tasks that no one else wanted to do, but that wasn't the case at all for me. Instead, I felt like I really got to work alongside the Marketing Manager and gain relevant and real-life experience in the industry.
Another positive aspect has been the autonomy, trust, and freedom I was given during my time here to explore different areas that interest me and pursue projects I knew would benefit the company. I really enjoyed the level of support that was provided from top management down to summer students; it is something I'll look for in workplaces in the future. It's been inspiring to be a part of such a fast-growing company that is building employee initiatives and programs that support, empower and bring together its employees. Solvest has taught me my worth and raised my expectations for future jobs and for myself in any future managerial role.
How would you say your experience matched the expectations you had when starting this job?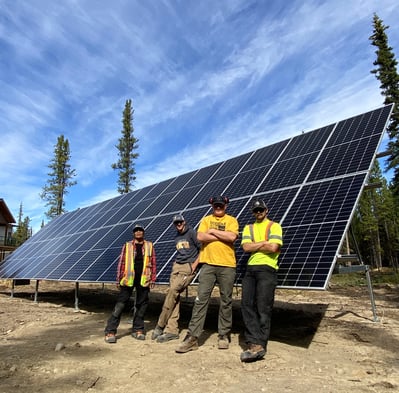 Oscar:
In
b
oth my previous years with Solvest I was a solar installer, which consisted of
building the roof/ground-mounted solar systems with the rest of the crew and crew leader. This summer, as a Crew leader, the work was familiar but I took on the added responsibility of guiding new installers and ensuring the team is working efficiently while following necessary safety procedures. The added
responsibility makes this summer much more interesting and satisfying.
Ruby: I was eager to learn relevant skills and better understand where I want to go with my degree. Although I expected to learn a lot during the term, Solvest has far surpassed my expectations in facilitating my professional growth.
What are some things you've learned or developed in this job that you think you'll be able to use in the future?
Oscar: The leadership skills I've developed this past season have been invaluable to me on a daily basis.
Ruby: Professional conduct and communication! Throughout this summer job, I've gained confidence in the way I communicate in not only a professional setting but also in my personal life.
For example, through the initial stages of event planning and project management, I was given the opportunity to practice outreach, negotiation, and creative problem-solving. I've been able to take these skills and apply them to personal situations such as securing housing for the upcoming school year. Solvest had a supportive and safe environment that allowed me to grow these skills through real-world applications.
What would you tell a new intern starting at a renewable energy company?
Oscar: If someone asked me about getting a job in renewable energy, and they didn't mind the snow once and a while, I'd tell them to join the Solvest team! Solvest is a great place to learn and thrive. I've been very fortunate to work with some great mentors who have taught me much more than just the ins and outs of solar energy. No matter your skill set, Solvest is a place to grow.
Ruby: It is okay to feel like you do not know enough about renewable energy because chances are, you don't; the same applies to most people. All that matters is that you are passionate about the benefits of renewable energy, have an open mind, and are keen to learn from different perspectives. For example, I got to accompany the solar consultants on assessments, where I learned from client interactions and even joined the crew on an installation where I experienced the technical aspects of solar energy specifically. Overall, if you are eager to learn and step out of your comfort zone, you will come out with a greater perspective on the effects of your work.
---
Careers at Solvest
Interested in contributing to a greener and more inclusive future?
Learn more about joining our collaborative, diverse, and growing team.