The complete solar and battery energy storage system (BESS) will reduce Snowline Gold's carbon emissions at the 45-person camp by 90%.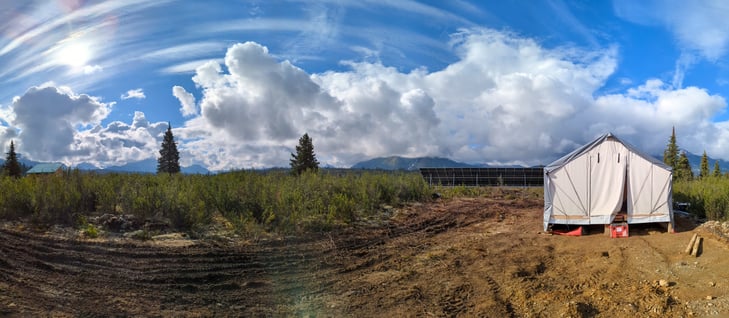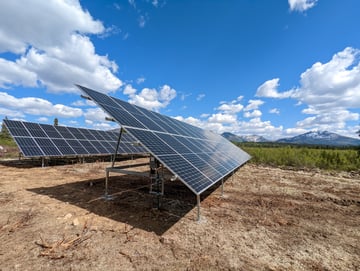 Solvest is pleased to announce the integrated solar and battery energy storage system (BESS) at Snowline Gold's "Forks" camp, is fully operational. This camp is situated on the Traditional Territory of the First Nation of Na-Cho Nyäk Dun. The 27kW solar array will power the 45-person exploration camp, as well as charge the 121.32kWh battery bank, resulting in up to 12,527 litres of fuel savings per year. The system was a collaborative effort being designed, constructed and maintained by Solvest Inc, is owned by Na-Cho Nyäk Dun Development Corporation (NNDDC), and is being leased to Snowline Gold. This structure provides direct economic impacts to Yukon First Nations and a prolonged partnership that strengthens renewable energy deployment in northern mines.
Technical Facts:
The 27kW solar array is expected to provide the vast majority of the camp's energy needs during its operating season.

A 121.32kWh battery bank

Fuel savings as a result of this project are estimated to reach 12,527 litres per year, which is a 90% reduction in carbon emissions based on the 2021 camp's power data.
This renewable energy project has three main components; 64 bifacial modules mounted on ground mount solar racking, a 121.32kWh Lithium-ion battery bank, and a power rack containing the off-grid equipment. A primary design consideration was the requirement for this renewable energy system to be modular and mobile to be flown into the remote camp via helicopter. This involved creating a custom racking solution to mount all the electrical equipment onto, to allow the system to be heli-portable.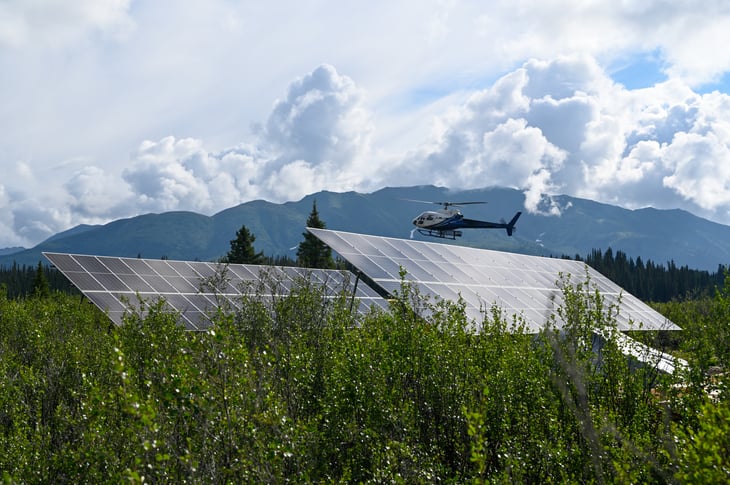 In addition to the savings in fuel costs and emissions from the direct consumption of solar energy, the considerable reduction in fuel-haul flights will result in a net positive impact both financially and environmentally. Additional benefits from the reduction in generator run time include less noise pollution within the camp, ameliorating living standards for Snowline's crew and reducing the potential disturbance of wildlife.

This project shows the scalability of solar and its ability to be implemented in any location, providing long-lasting environmental, financial, and socio-economic benefits for the North. Solvest would like to thank NNDDC and Snowline Gold for making this innovative project a reality.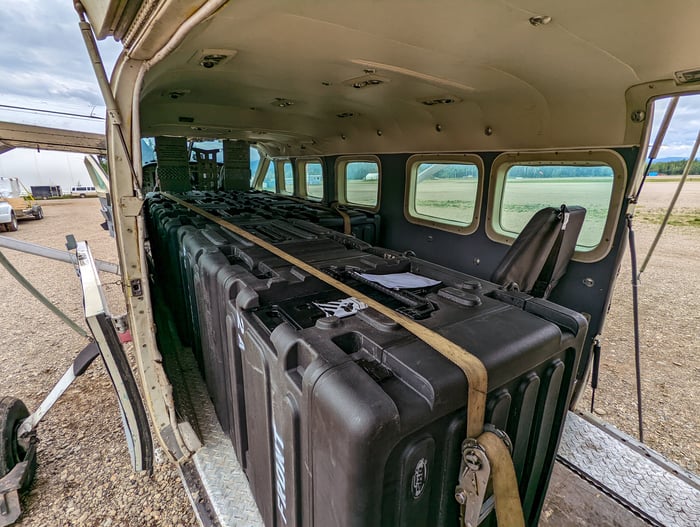 Remote mineral exploration camps are faced with many challenges including high fuel and transportation costs. This challenge presents an opportunity for highly economic solar-battery system deployments which also achieve significant and impactful emissions reductions. Solvest is proud to have had the opportunity to work with great partners in NNDDC and Snowline Gold to deliver this first of its kind project and we hope it becomes a blueprint for others to follow.
-Ben Power, CEO & Co-founder, Solvest
Investments such as this are examples of how Indigenous businesses are leading the way
in accelerating the green economy, and innovations such as this provide opportunities for
such entities to become increasingly engaged in the mineral resource sector. We see this
investment as just the first of many of its kind and we are working towards building a fleet
that can be deployed throughout the Traditional Territory.
-Jani Djokic, CEO, NNDDC

This project is a tangible representation of how Snowline is realizing our Corporate Vision.
It increases efficiency while creating financial and environmental value. It improves our
employees' work environment, it is yet another partnership with the Nacho Nyak Dun
Development Corporation, and it is being provided by Solvest, one of Yukon's most
innovative companies.
-Steve Rennalls, Operations Manager, Snowline Gold Corp.
Social Media:
Facebook: Solvest
Instagram: solvestinc
YouTube: Solvest Inc
LinkedIn: Solvest Inc
About Solvest:
Solvest began operations in the Yukon in 2015 and we have since established ourselves as the standard for renewable energy services in Northern and remote regions.

The partners in Solvest have extensive experience in resource development across northern Canada and this provides us with unique insight into the challenges posed by reliance on diesel power generation and related high costs. The advancements in renewable energy technology provide an opportunity to assist people in remote regions in reducing their reliance on diesel, becoming more self-sufficient, and demonstrating environmental stewardship.

Solvest was founded to take on this challenge. It is our mission to empower individuals and communities through renewable energy self-sufficiency. To enable them to generate wealth and make a positive environmental impact. We earn your trust by providing innovative system designs that deliver low-risk, high-return investments and by guiding each step in your project's journey. We are your partner in the complete energy-generating experience.