Solar panels installed on 40 KDFN homes will generate electricity this spring, reducing utility bills for tenants and creating new revenue for the First Nation.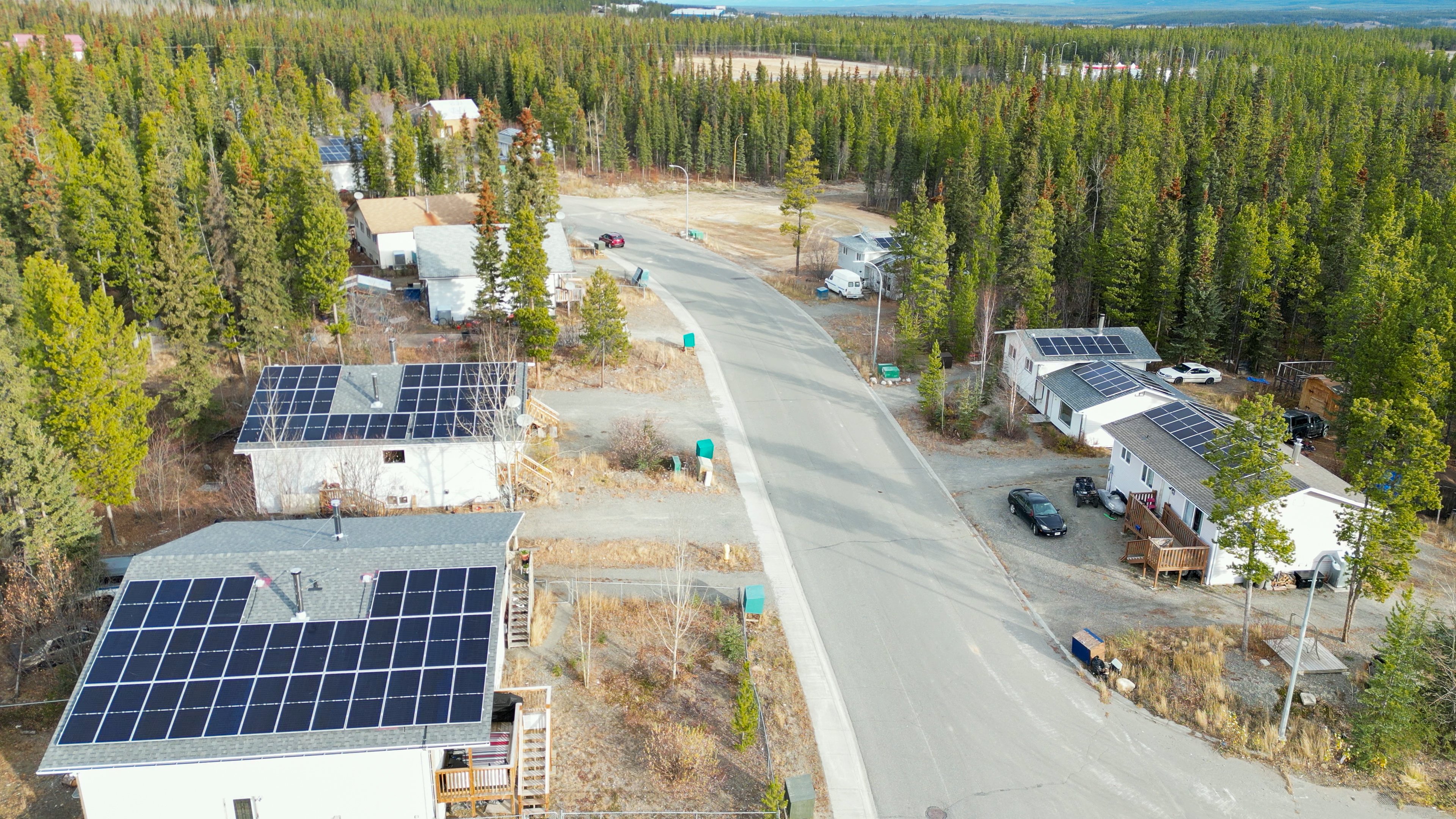 Solvest has installed residential solar systems on 40 homes owned by Kwanlin Dün First Nation (KDFN). Collectively, these homes add 291.3kW of renewable energy to the Yukon grid and are expected to produce ~232,091kWh annually. In addition to being a long-term investment for KDFN through the Yukon's Micro-generation Program, a key outcome of this project will be lower utility bills for the tenants of these homes in the spring, summer and fall.
Technical Facts:
Total project size of 291.3kW, with individual systems ranging from 6kW to 7.2kW

Each system has 16 solar modules; the project is comprised of 640 modules in total

The systems will collectively produce ~232,091kWh on an annual basis

This project utilized the Federal Greener Homes Grant and Territorial Good Energy Rebate
Solar systems were installed on the homes in September and October 2022. Electrical work and inspections were completed in November. The power produced by these residential systems will first be used by the home to lower the utility bills; any surplus power will be pushed back to the local utility grid.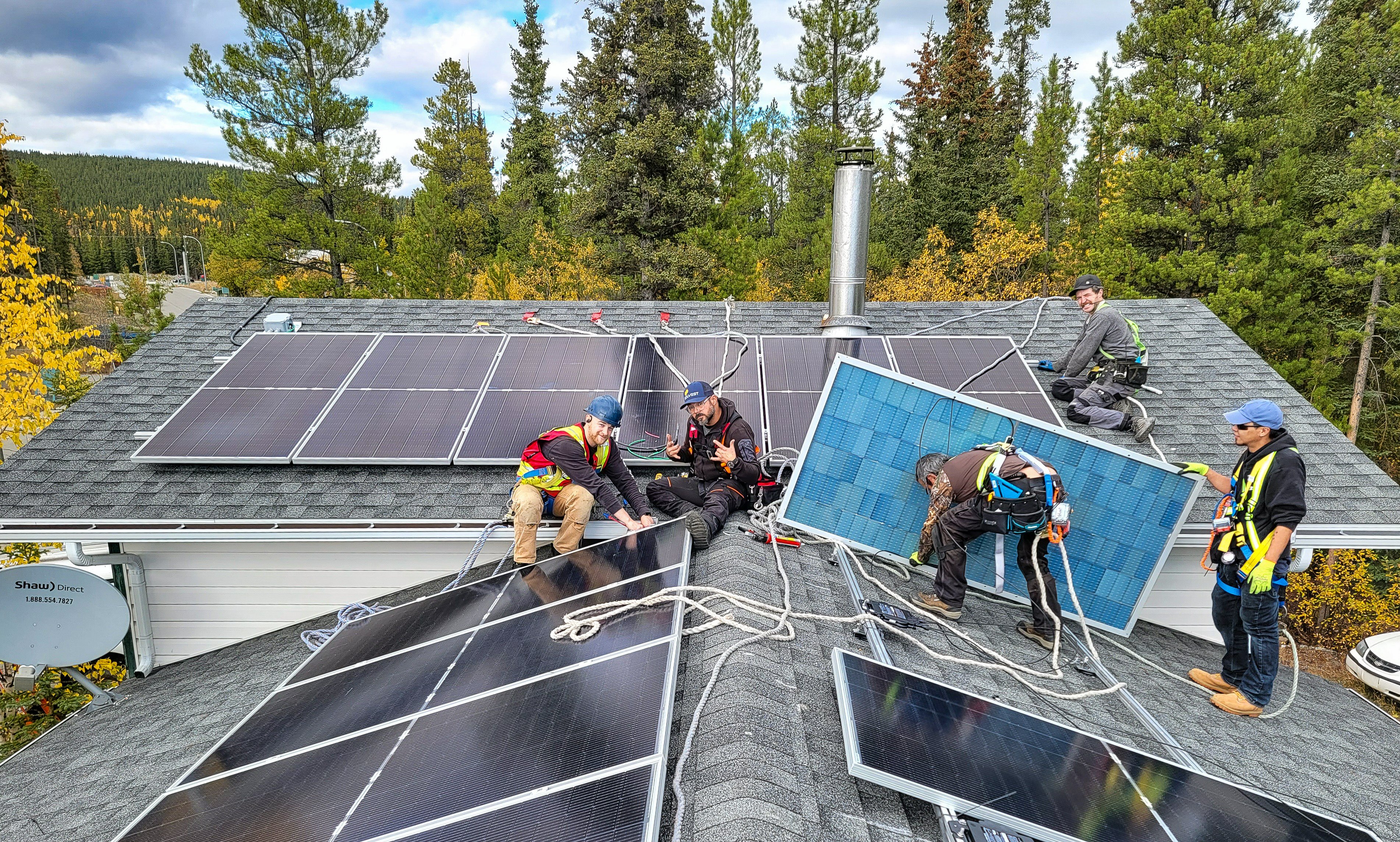 Solvest worked collaboratively with the First Nation to achieve sustainability and economic objectives, training and employing KDFN citizens. The new hires were trained by Solvest, obtaining fall arrest and technical solar skills.
The project will reduce the reliance on fossil fuels while simultaneously creating a new revenue stream for the First Nation, providing an example of Yukon First Nation government and private enterprise working collaboratively. This project addresses present environmental challenges, encourages Indigenous-led stewardship, and aligns with the Yukon government's goal to have 97% of the electricity on Yukon's main electricity grid come from renewable sources, as outlined in "Our Clean Future: A Yukon strategy for climate change, energy and a green economy" (2020).
"Kwanlin Dün First Nation is pleased to bring more renewable energy options to our Citizens. It's important that we lessen our environmental impact as much as we can, and be responsible stewards of the land, water and living things on our traditional territory."
- Chief Doris Bill
This project represents an innovative framework that others can follow to decentralize power production in remote locations. It's becoming more apparent that power production does not have to come from one source or group, as it had to in our past. By pairing forward-thinking First Nations Governments, progressive policies, and innovative solutions, we can change the face of power generation.
- Danny Guhl, Partner, Solvest
The promise of renewable energy is not only sustainable power generation but also, the ability for communities to be self-sufficient. This project serves as a demonstration of what can be achieved by working collaboratively with First Nation Governments, developing opportunities that align with their values and serve their communities.
- Ben Power, CEO & Co-founder, Solvest
Social Media:
Facebook: Solvest
Instagram: solvestinc
YouTube: Solvest Inc
LinkedIn: Solvest Inc
About Solvest:
Solvest began operations in the Yukon in 2015 and we have since established ourselves as the standard for renewable energy services in Northern and remote regions.

The team at Solvest has extensive experience in resource development across northern Canada, providing us with unique insight into the challenges posed by reliance on diesel power generation and related high costs. The advancements in renewable energy technology provide an opportunity to assist people in remote regions in reducing their reliance on diesel, becoming more self-sufficient, and demonstrating environmental stewardship.

Solvest was founded to take on this challenge. It is our mission to empower individuals and communities through renewable energy self-sufficiency. To enable them to generate wealth and make a positive environmental impact. We earn your trust by providing innovative system designs that deliver low-risk, high-return investments and by guiding each step in your project's journey. We are your partner in the complete energy-generating experience.