The North Klondike solar power plant has been fully commissioned and is now producing renewable energy for up to 180 Yukon homes per year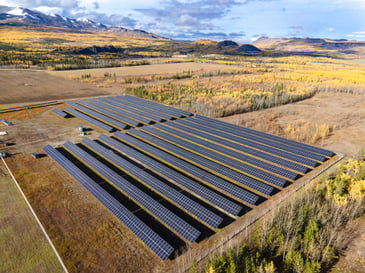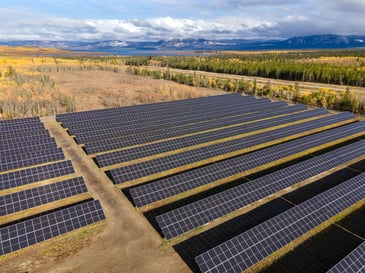 Solvest is pleased to announce the North Klondike solar power plant is now operational. It is the largest (to date) and first megawatt-scale, grid-tied Independent Power Production (IPP) project in northern Canada. The project was designed, constructed, and is operated by Solvest. It took two-and-a-half years from development to construction and will produce renewable energy for the Yukon for the next 25 years. Launched in October 2018, the Yukon government's IPP policy allows entrepreneurs, communities, and First Nation governments to build renewable energy projects and sell the electricity generated to the grid.
TECHNICAL FACTS:
1.76 megawatt DC / 1 megawatt AC, and will produce:
1.8 gigawatt-hours of energy annually
This can produce enough energy to power:
up to 180 homes per year

on a sunny day charge 130 electric vehicles at once
The renewable solar energy project is comprised of 4,000 bifacial solar modules. Bifacial solar modules produce electricity on both sides, from direct lighting and from light reflected off the ground. This is particularly advantageous in the Yukon's springtime when the ground is covered in snow but the days are long. The bifacial modules are expected to increase the project's output by 9% annually compared to monofacial modules.
The modules are facing south with an angle of 30 degrees to the horizon, and 7 meter spacing between the rows. The foundation consists of iron piles driven 15 feet into the ground to support galvanized steel racking.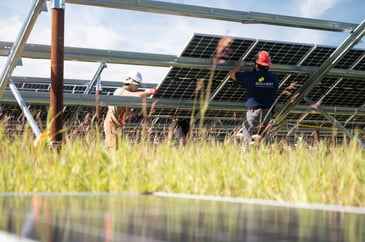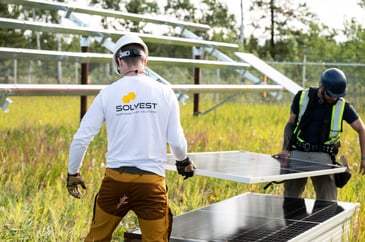 On behalf of our team at Solvest, we are very pleased to be commissioning this solar power plant. The project demonstrates that renewable energy can compete economically in Canada's north, providing revenue to local economies while lowering carbon emissions. I would like to thank our entire team for their work on this project, all of our technical partners and suppliers as well as Yukon Development Corporation for supporting the project through the IREI fund. We look forward to this project paving the way for additional IPP projects in the near future and helping the Yukon build towards renewable energy self-sufficiency.
- Ben Power, CEO & Co-founder, Solvest
The North Klondike solar energy project will generate enough power to support up to 180 homes in the Yukon. These types of projects put us one step forward in meeting our climate targets under Our Clean Future: the Yukon's strategy for climate change, energy, and a green economy. Our vision is to address climate change by building thriving, resilient communities powered by renewable energy and supported by a sustainable green economy that protects and restores our natural environment. We applaud Solvest for their Independent Power Production project and for being a part of the solution.
- Honourable John Streicker, Minister of Energy, Mines, and Resources
SOCIAL MEDIA ACCOUNTS:
Facebook: Solvest

Instagram: solvestinc

YouTube: Solvest Inc

LinkedIn: Solvest Inc
ABOUT SOLVEST:
Solvest began operations in the Yukon in 2015 and we have since established ourselves as the standard for renewable energy services in Northern and remote regions.
The partners in Solvest have extensive experience in resource development across northern Canada and this provides us with unique insight into the challenges posed by reliance on diesel power generation and related high costs. The advancements in renewable energy technology provide an opportunity to assist people in remote regions in reducing their reliance on diesel, becoming more self-sufficient, and demonstrating environmental stewardship.
Solvest was founded to take on this challenge. It is our mission to empower individuals and communities through renewable energy self-sufficiency. To enable them to generate wealth and make a positive environmental impact. We earn your trust by providing innovative system designs that deliver low-risk, high-return investments and by guiding each step in your project's journey. We are your partner in the complete energy-generating experience.